About METEO CONSULT

METEO CONSULT is an operational meteorological research office specialising in the climatic environment.
METEO CONSULT services are provided by a a team of scientific experts and rely on state-of-the-art technology.
The company exploits its own IT resources that are specialised in compiling these forecasts. These powerful systems, operated by a team of highly qualified meteorologists, are linked to supercomputers in the USA and Great Britain, which process data collected by the network of observatories of the World Meteorological Organization.
The information and advice provided by
METEO CONSULT
applies to all sectors concerned by climatic conditions:
Industry and marine transport
Construction and public works
Sporting events, leisure, travel, etc.
Insurance
Agriculture
Media
Audiovisual producers
METEO CONSULT
services are customisable and interactive. The company provides forecasting and research services, as well as meteorological tracking, which can be classified into two types of services:
Forecasts
Monitoring, consulting, reports, warnings, specialised services, etc. In addition,
METEO CONSULT
is able to provide 1 to 5-day forecasts with a 14-day trend within a couple of hours. It also broadcasts local, national and international meteorological forecasts, as well as specialised shipping forecasts and snowfall forecasts. Each forecast contains a reliability index. These services are available by telephone (Audiotel answering service) on +33 1 77 86 86 86 (calls from France), by fax (SEAFAX and METFAX services) and online, on www.meteoconsult.fr and www.meteoconsult.com.
Reports that are drawn up by the research office are also published in the written press.
The aim of the
METEO CONSULT
team is to provide customers with solutions in terms of:
Economic factors:

Efficiently managing the impact of meteorological conditions increases the profitability of the activity concerned.

Performance factors:

Making a decision at the right time is comparable to being one step ahead and leads to a high-quality result.

Safety factors:

The accurate assessment and monitoring of risks related to meteorological conditions enables activities to become safer.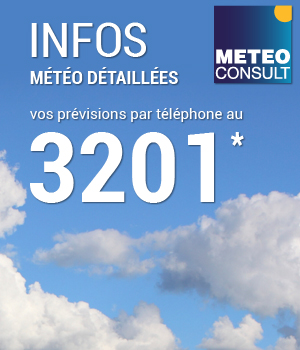 Appelez METEO CONSULT pour joindre un de nos conseillers
01 39 28 19 90