Legal information

The meteoconsult.fr website is published by the company METEO CONSULT, a simplified joint-stock company (SAS, société par actions simplifiée) with a share capital of €225.890, registration number 347 613 879 in the Company Register of Versailles. The company is headquartered at 1 rue Jean Antoine de Baïf, Domaine de Marsinval, 78540 VERNOUILLET France.
Editor in Chief: Eric Savant-Ros
Email address:
contact@meteoconsult.com
Telephone: +33 (0)139 281990
VAT identifiation number: FR81 347 613 879
The site is hosted by METEO CONSULT:
1 rue Jean Antoine de Baif Domaine de Marsinval 78540 VERNOUILLET France
Telephone: +33 (0)1 39 28 19 90
Right of access to data:
The personal data that METEO CONSULT gathers from the www.meteoconsult.fr website and processes has been registered under the number 1413483 with the CNIL (French Commission for Information Technology and Civil Liberties). In accordance with the act of 6th January 1978 on Information Technology and Civil Liberties, you have a right to access, correct, modify and delete any data relating to your person. If you wish to exercise this right, please contact us at
contact@meteoconsult.com
, mentioning your surname, first name and email address.
Intellectual property rights - User rights:
METEO CONSULT authorises the website user to use the site for private, non-public and non-exclusive purposes. This right is limited to the right to reproduce all or part of the content of the website and save it with the intention of displaying it on a single-user screen and copying it once only, to create a backup copy or print-out, where necessary, in return for a subscription for paying content. This right is granted on the condition that usage is strictly personal, private and non-public. It is strictly forbidden to post this content or any part of it on any network, or broadcast it or market it to third parties in any format. The above also applies to RSS feeds and newsletters. It is forbidden to use this content for professional or commercial purposes, or market it to third parties, without the prior written consent of Météo Consult. Anyone wishing to use all or some of the content of the website, particularly the RSS feeds, is requested to contact Météo Consult.
Notwithstanding the rights or reproduction and storage as strictly outlined above, and without the prior written permission of METEO CONSULT, the user is forbidden to reproduce and/or to use the brands and logos on this site, including modifying, copying, translating, reproducing, selling, publishing, exploiting and broadcasting all or part of the information, text, photos, images, videos and data on the site, which constitute intellectual property according to the provisions of Article L112-1 of the Code of Intellectual Property, in a digital or any other format. In the event of violation of these imperative provisions, the violator and anyone responsible for the violation, will be subject to sanctions under penal and civil law.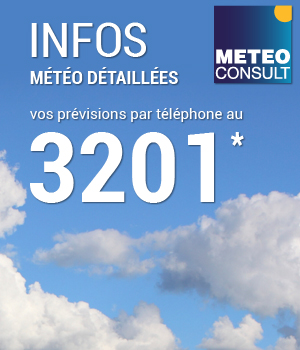 Appelez METEO CONSULT pour joindre un de nos conseillers
01 39 28 19 90